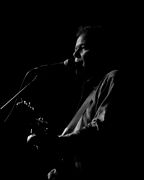 Tommy Talton Biography
   Six decades in, it's clear that guitarist and songwriter Tommy Talton is still making music for the sheer joy of it. He manages to perform with both the energy of a music-obsessed kid and the restraint of a seasoned veteran – because, at heart, he is both.  
  He began his musical career in Central Florida in 1966 as a founding member of a group called "We The People."  The group had several top ten hits throughout Florida, Tennessee, and Kentucky.  Recording with RCA Victor Records, they gained much critical acclaim and are still considered to be in the top three of the most listened to and appreciated "garage band" genre groups of all time.  Tom Petty's Buried Treasure Sirus/XM radio show showcased several cuts from this band.  Sundazed Records has a re-release of a rare recording of We The People from the '60s.   You can buy this in LP or CD here.    
   In 1970, Talton along with Scott Boyer founded the Capricorn Records group Cowboy.  From 1971 through 1977 Cowboy recorded 4 albums for that iconic label.  Go to this page for more info on Cowboy
Reach For The Sky - (1970)
5'll Getcha Ten  (1971)
Boyer and Talton: Cowboy (1974)
Cowboy (1977)
   Talton also recorded an album titled "Happy To Be Alive/ Talton, Sandlin and Stewart" with producer Johnny Sandlin (Allman Bros., Delbert McClinton). Essentially, it was a solo effort with all but one song being written and sung by Talton.  Best cuts include "It Might Be the Rain" and a cover of Allen Toussaint's "Working in a Coal Mine."  Hard to find, but well worth seeking out.
   While in Macon, Ga. through most of the 70's, Tommy was a studio musician recording with artists such as Billy Joe Shaver, Bonnie Bramlett, Martin Mull, Corky Lang (West, Bruce and Lang/ Mountain), Gregg Allman, Dickey Betts, Clarence Carter, country music legend Kitty Wells, Alex and Livingston Taylor, Arthur Conley of Sweet Soul Music fame, Johnny Rivers, and more.  He toured extensively throughout the U.S. with Cowboy and on Gregg Allman's "Laid Back Tour" as Gregg's 'Special Guests' from Carnegie Hall to Fillmore West in San Francisco and most cities in between.  Tommy was also the guitarist on Gregg Allman's certified Gold Laid Back studio album.
   Throughout the '90's, he lived and toured in Europe and formed a group there called "The Rebelizers" with members of Albert Lee's band, Hogan's Heroes.  Also at that time, he was guitarist on a Belgian television program, "Sommer Kuren" ("Cures Summer," translated,1997) and played with numerous European musicians such as Toots Thielemans (jazz harmonica) while gigging in France, Belgium, Luxembourg, Germany and Spain.
   In 2005, after returning to the States, Talton formed The Tommy Talton Band.  He connected with Southern Music and Allman Brothers Band magazine, "Hittin The Note" which was expanding as a recording label at that time.  
   He continues to tour the Southeast of the USA, with occasional visits to Chicago, New York and Europe, as a soloist and with a full band from 3 to 11 pieces.